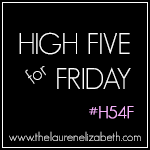 It's Friday! I know, I know what you are thinking... the last time I proclaimed it was a certain day I was wrong. But today, IT IS FRIDAY!! I am linking up with Lauren Elizabeth to share my top 5 for this week!
Here is what I am saying High Five for Friday about:
1. Parker loves, and I mean L O V E S, his new red wagon! We took several wagon walks this week:
2. On Tuesday I took some Mommy time to get a pedicure. Finally! And not pictured is the latte from Starbucks I also enjoyed. Ahhhhh:
3. Honey and I grill out every chance we get. Even in winter! But this lovely weather just makes us want to grill out every night! We grilled three times this week:
4. My sweet husband planted two pots of these gorgeous flowers on our front porch. Thanks Love!
5. Operation Pack-For-The-Beach is in full effect at our house this week! I have been so on top of it this time around I almost don't even recognize myself! Bags ready to go:
Happy Friday! I hope you have a great day today!