I have two posts today because I discovered a super fun link up I had to join in on! Today I am also linking up with Jess over at
The Pretty Physicist
for "The Newlywed Game"!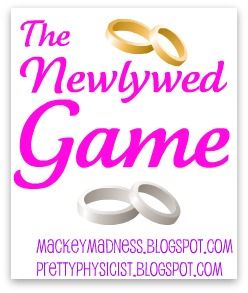 Here are the questions Jess asked us to share with our significant others and the answers Honey and I gave!

What do you think my best quality is?
He Said: That I am always supportive of him
She Said: That he always seeks to understand what I need
What would be your ideal date with me?
He Said: Going downtown, staying in a nice hotel, having a limo pick us up and take us to a nice dinner, then a small music venue to hear one of our favorite artists, then to a dessert café afterwards
She Said
: To kayak or hike to a beautiful remote place where there is no one but us and a gorgeous view and having a beautiful and delicious picnic already set up ('Bachelor' style!) for us to share as we take in the view
(Do we know each other or what – we each defined a date that the other person would LOVE!)
What was your first impression of me?
He Said: That I was fun, wanted to have a good time, and just went with the flow. He also said that I was very beautiful!
She Said: That he was handsome, so much fun, and uninhibited. He wanted to make me laugh and make sure I had fun no matter what!
Our first date weekend
What is your favorite memory of us?
He Said: Our first trip together to go skiing in Colorado. We learned a lot about each other that week and had such a good time being together!
She Said: The moment he told me he loved me. We were at a concert for one of our favorites, surrounded by thousands of people, and he just turned to me and said, "I have to tell you something right now, I love you". He told me later that night that he just couldn't wait another second – he had to tell me right then!
What do you see for us in the future?
We actually said the same thing for this one since we've talked about the future a lot together. We can sum it up in two words: Family – we're expecting our first little one in June and are so thrilled to start our family! Family is very important to us both and we're so excited to start our own! Adventure – being an Army family our future is not clearly defined like it is for many couples. We don't know a lot about the future and what it will hold but we do know that we are in for one awesome adventure!