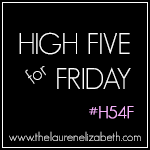 Six weeks. That's the age difference between Honey and I. I'll let you guess which one of us is older...
Well my sweet husband's birthday was Monday (yes, on Labor Day!) and we had so much fun celebrating the fact that he was born. My High Five For Friday (H54F) this week is all about celebrating my Honey's birthday! Oh the fun we had!
ONE
: We started the celebration on Friday when I announced that I would be making all of his favorite dinners all weekend long!
Friday night was taco night followed by our evening tradition of a family wagon ride.
TWO
: Saturday we spent the morning exploring a nearby town and found a fabulous pizza restaurant. The best part of the day? Parker saw three trains! Three trains passed right through town while we were there!
Saturday night was breakfast for dinner night. And Honey? Did a little dance when I told him.
THREE
: Sunday we went to a church we have been visiting and then Honey spent the rest of the day dove hunting. He brought home 13 doves! Parker Bear and I decided to take advantage of the final days of the pool being open and spent some time getting some good Vitamin D!
FOUR: Monday we went into Kansas City to celebrate Honey's birthday by eating lots and lots of meat at Fogo De Chao. We also walked around the gorgeous plaza and visited the World War II museum.
That evening Parker Bear and I gave Honey his birthday presents buts we were too full for birthday cake. We were too full to even eat dinner.
FIVE: But don't worry, the next night we had one of Honey's favorite dinners, Eggplant Parmesan and then enjoyed a homemade, from scratch, clean cake!
It was such a fun weekend! Happy birthday Honey! We are so glad that you were born!!