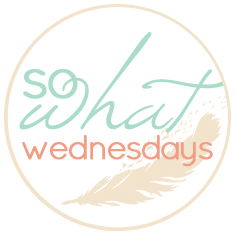 I've been in a so-what mood the last couple of days so this post is perfectly timed. Here is another installment of So What Wednesday!
So What...
If today is, sadly, the last day of my first big give away? If you haven't already entered to win a customized 12x12 monogrammed frame, click here to enter today! (You knew I was going to mention that!)
So What...
If my husband and I (& Parker too!) ate way, way too much food at Fogo De Chao for Honey's birthday lunch? It's all so good that by the time you realize you are full it is too late. Ugh.
So What...
If we were too full from the above mentioned lunch to even eat dinner or have the birthday cake I made from scratch for Honey on his birthday? Yes, the dinner and cake were moved to the next night. After our riotous meal had finally digested.
So What...
If the new cleaning lady we hired spent
four-and-a-half-hours
in our three bedroom home today? So, is she just really thorough or was our house really that dirty. Never mind, I really don't want to know the answer.
So What...
If I have hung pictures, moved pictures, re-hung other pictures, and will probably still change them again in our new house? I'm visual! I need to
see
it to know if I
like
it. And if it's not quite right? I change it again!
**Oh! That reminds me, House Tour (In Pictures) Part I and Part II coming soon! I know Julie, Lindsay, and Katie, in particular have been asking!**
What are you saying SO WHAT to today? I hope you are having a fabulous Wednesday!