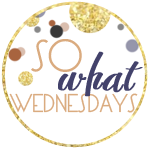 Today I'm linking up with Life After I Dew to say SO WHAT Wednesday!
So What...
If I sliced my finger open cutting up sweet potatoes to make sweet potato baked fries? I'm already deathly afraid of our fancy knife set and this little incident was almost enough to cause a major cooking boycott in our household. It hurt!
So What...
If Parker turned 16-month-old before I finally got pooped on? Seriously, like getting spit up in your hair and nursing at a rest stop, there are certain mommy-rites-of-passage that mommy's go through and I was wondering if I was just going to miss that one altogether! Nope. Diaper leaked. Poop on clothes and hands. So check that one off the list!
So What...
If I was up from 11:30 p.m. (I had just gone to bed!) until 4:30 a.m. with a sick little one last week? Poor baby couldn't breathe and needed mommy snuggles, a few books, and one episode of Baby Einstein on my phone. If we're being honest, the Baby Einstein was used after I realized I had passed out three times during the fifth reading of Little Blue Truck.
So What...
If honey and I went to explore a nearby town and ended up discovering the one place in America where everyone believes every mothball smelling piece of junk is something you should sell in your "shop". We got ice cream which made it all better and got outta there as quickly as we came! Vintage finds, yes. Creepy mothball junk? No.
And finally,
so what...
If I'm super duper excited about my parents being here to visit and don't want them to ever leave!!
Happy Wednesday!!