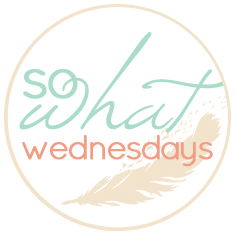 It's Wednesday and this week I'm linking up with Shannon atLife After I Dew to say SO WHAT Wednesday!
I blogged every day for a week and a half! Who am I? And today you get a two-fer!
I committed to a 6-workout-a-week boot camp with a strict nutrition plan during the busiest month of my life? I'll look back on this time with sweet memories… right?...right?
I completely told off a telemarketer who called our home yesterday afternoon. I was in a mood. I needed someone to yell at. His timing? Impecable!
We still have a home phone? We do!
I put HGTV on at night when Honey is not home. My happy place? Maybe…