Today I'm linking up with Shannon over at "
Life After I Dew
" to say SO WHAT Wednesday!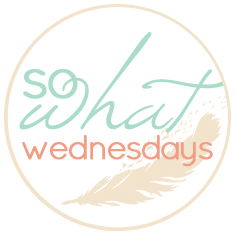 This week I'm saying so what if ...
I placed the blades for my food processor in a "safe place"? Well, $75 and ten minutes online later and new ones will be here any day. And when I find the safely tucked away blades that came with my food processor well then I'll just have two sets. So what, right?
I did not want to go to Boot Camp on Monday night? I love working out in the mornings and loathe working out in the evenings. Oh well, I went. And I can do this for three more weeks, right?
(Speaking of working out) I posted a post-workout picture on this very blog? I needed to capture sweet Parker Bear kisses and well, let's face it, this is what I look like most days. A mom in workout gear.
I might have hung a decoration for Baby Boy's FIRST BIRTHDAY party? The party might not be for ten more days but someone is very excited! And I don't mean the birthday boy...
What are you saying so what to this week?
Happy Wednesday!