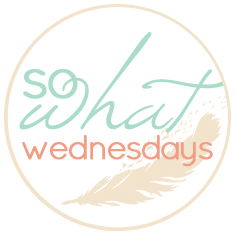 It's hard to believe another week has flown by but here we are at Wednesday again! What a wonderful week we had with family in town celebrating Parker Bear's very first birthday! I am working on a post to share all the fun we had!
So for today I am linking up with Shannon at Life After I Dew to say So What Wednesday!
This week I'm saying SO WHAT:
... If Honey and I went to dinner with Baby Parker for our two year anniversary? We wanted a night together as a family (where I didn't have to cook or clean!) and it was perfect. Especially since last year we spent our anniversary in the hospital NICU with our tiny baby boy!
... If I cheated *slightly* on my strict boot camp meal plan this week? What? With Baby Parker's first birthday bash and all the delectable treats we had I just had to indulge. He's only going to turn one once!
... If I nearly peed myself jumping rope this week at CrossFit? I had a baby! (Last year but that's not the point.) On a related note does that ever go away?!?
... If I got a "spring" cold? Blech. Glad that's over with!
... If my mom stayed here with me for *a week* helping me prep for Parker Bear's birthday party? I needed her help and there's no way I could have pulled it off without her! (Thank you Honey for putting up with both of us for a week!)
... If I didn't cook for 5 days? Totally going to try to swing this once a month!