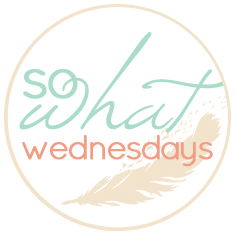 Happy Wednesday! Today I am linking up with Shannon at Life After I Dew to say So What Wednesday!
This week I'm saying...
So What... if yesterday was the first showing our house has had in a while?
So What... if I had about 20 minutes to pick up before the above mentioned showing? Yikes! Our house is *party preparation central* these days as we prepare for Parker Bear's first birthday party this weekend!! And would you believe that the agent said the house "showed really well"? Yay!
So What... if my mom is here for the week helping me get ready for the big bash on Saturday? It is nice to not rush all of the decorating and food preparation into a couple of days. Having the week to prepare is making it soooo much fun!!!
So What... if by the time it is all said and done Baby Parker is going to have two smash cakes? He had one on his actual birthday and he'll have another this weekend at his party. Lucky boy!
So What... if the birthday boy has been opening presents as they have been arriving? I don't see the need to wait until his birthday OR his party to open all of his gifts. As my family has been sending gifts, our happy has been opening them up! So fun!
So What... if I'm busier now than I ever was when I worked. I certainly left the work force at the right time. The speed of life as increased significantly since early April with no end in sight. Fortunately, we are having the time of our lives!
I'm sorry that this post was all about the house being on the market and Parker's birthday. This week, that is what is on my mind!! Check back next Wednesday for a whole new list.
What are you saying SO WHAT to? Have a great Wednesday!